Multi-cloud in logistics
With EURO-LOG's solutions, all data is available to you centrally, uniformly and in real time via Multi Cloud
What are the advantages of connecting clouds specifically in logistics?
Fast data exchange between all actors is an important prerequisite for efficient and targeted management of your logistics processes. Logistics in particular is characterised by a multitude of different IT systems and cloud worlds, which can complicate the flow of data in real time.
With the multi-cloud as the basis of our IT solutions, we overcome this hurdle for you. We bring together the in-house systems of shippers, forwarders, suppliers, courier, express and parcel service providers as well as logistics service providers in the shortest possible time. Through this digital networking, all data is available to you on our platform in a uniform architecture and in real time.
Thanks to our multi-cloud platform, companies benefit from:
Data exchange and communication in real time
Intelligent mechanisms for process automation, such as Robotic Process Automation (RPA)
Flexible and fast integration of new process partners, cloud services or further logistics solutions
Overview and control in a single, central management console
Improved efficiency and productivity
This is how the multi-cloud supports you in everyday logistics operations
For seamless supply chain management with fast information exchange between all players, a multi-cloud is the ideal choice. With our modern IT solutions, we are your Software-as-a-Service (SaaS) partner for a transparent supply chain, end-to-end. In doing so, we guarantee information and data security according to the international standard ISO 27001, certified by TÜV Süd.
In procurement management, you communicate electronically with your suppliers by means of order confirmation, notification, delivery note and delivery planning. Status messages, delivery documents and transport reports are automatically assigned, including independent matching of delivery note and order items.
Our transport management reduces the complexity of supply chains. The information of all parties involved is brought together centrally in the multi-cloud and can be accessed via a single platform. Time-consuming searches are no longer necessary for you in the future; you can see everything relevant at a glance. The real-time data flow and automated processes enable management by exception. The integrated event management notifies you proactively about special cases. This means you only have to deal with the critical exceptions and deviations in the process.
Our ONE TRACK shipment tracking system connects companies, suppliers and transport service providers with each other via multi-cloud. ONE TRACK independently collects the status information from the various data sources and passes it on to your system in a standardised form. You receive active notifications and alerts about shipment status changes in real time. These can also be integrated directly into the web shop or ERP system. This way, your customers are always up to date.
With Mobile Track, hauliers and dispatchers manage, communicate and document their transport orders easily via app. All statuses are recorded by the drivers on the move. The logistics solution can be flexibly integrated into your existing system, regardless of whether you use smartphones, tablets or scanners. Your borderos and route cards are therefore up to date at all times.
With our container management, you always have an overview of the containers, loading and transport equipment you use. By connecting all plants, suppliers as well as transport and logistics service providers to the Multi-Cloud, every process partner has up-to-date data on their container inventory, both for full and empty containers.
Click on your suitable solution and find further advantages for your company.
What are the characteristics of the multi-cloud?
A multi-cloud connects several, different cloud systems with each other. Via interfaces or services such as IaaS (Infrastructure as a Service), PaaS (Platform as a Service) and SaaS (Software as a Services), existing cloud solutions are integrated with little effort. This applies to IT services as well as to in-house systems of companies. Whether the clouds are private, public or hybrid is irrelevant. As a best-of-breed solution, the multi-cloud ensures that heterogeneous IT landscapes and services become a homogeneous data platform.
This facilitates the integration of processes and the exchange of data. So when many process partners interact with each other or different systems of clouds are present, multi-clouds are particularly useful. For example, in the manufacturing industry or the automotive sector. Especially logistics and transport service providers, but also suppliers of different manufacturing stages and production have to work closely together here. Here, cloud computing offers companies decisive advantages and saves resources.
What do we mean by clouds and what forms do they take?
The cloud is a provision of IT infrastructures that are not installed on the respective end device. Storage, databases, computing power, software or tools are accessed via the internet. In this way, the optimal infrastructure is used for each workload in a flexible and demand-oriented manner.
A distinction is made between private clouds, where defined user groups are created within the company and sensitive data is managed. And public clouds, which offer access to a broader public. A combination of both structures is called a hybrid cloud.
EURO-LOG contact for multi-cloud technology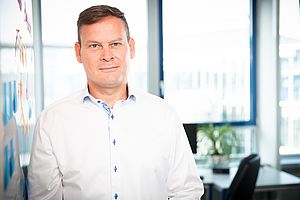 Claus Süskind
Head of Sales
EURO-LOG AG
Am Söldnermoos 17
85399 Hallbergmoos-Munich
Phone: +49 811 9595-109
Fax: +49 811 9595-199
E-Mail: c.sueskind@

eurolog.com
CONTACT
EURO-LOG AG - AM SÖLDNERMOOS 17 - D-85399 HALLBERGMOOS - INFO@EUROLOG.COM - PHONE 0049 811 9595-0