Industry 4.0 in logistics
IT solutions of EURO-LOG as platform for Industry 4.0:
The solutions enable the fusion of production technology with information technology.
Industry 4.0 research consortium "DProdLog"
Since early 2016, we have been working with our partners in industry to develop the "DProdLog" project. The aim of this research project is to create an open, modular service platform that can digitalise production-related logistics services. Just-in-sequence deliveries of parts to the assembly site, providing materials for machinery and tool management are some examples of this. Containers fitted with integrated microelectronics bring transparency to these processes.
Smart containers for Industry 4.0 – Containers communicate independently with open service platform
The delivery hardware communicates independently with our cloud-based platform, which collects and interprets the data from the smart containers. The cargo carriers tell the system what they contain and where they are. This enables logistics service providers to better monitor movements within and between production facilities, plan them more precisely and control them more systematically.
EURO-LOG CONTACT FOR INDUSTRY 4.0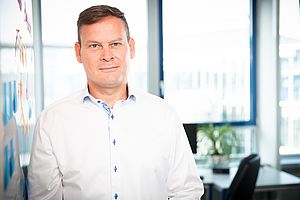 Claus Süskind
Head of Sales
EURO-LOG AG
Am Söldnermoos 17
85399 Hallbergmoos-Munich
Phone: +49 811 9595-109
Fax: +49 811 9595-199
E-mail: c.sueskind@

eurolog.com
CONTACT
EURO-LOG AG - AM SÖLDNERMOOS 17 - D-85399 HALLBERGMOOS - INFO@EUROLOG.COM - PHONE 0049 811 9595-0