Robotic Process Automation
EURO-LOG's solutions simplify your logistics with RPA (Robotic Process Automation)
How robots optimise your logistics
Software robots (RPA bots) are used in many areas of logistics and are becoming increasingly important. With this technology, software robots learn routine tasks and perform them automatically. Since they work at the level of the graphical user interface, just like your employees, neither process changes nor special interfaces are required for your company. RPA bots mimic human interaction with systems, but are not physically existent, only digitally present.
RPA bots complete their tasks quickly, around the clock, reliably and with consistent quality. Only in previously defined cases are processes passed on to real employees to make or confirm decisions. This saves valuable time and increases efficiency. The risk of errors decreases, as these happen mainly during manual processing.
By eliminating repetitive routine tasks, your employees can devote themselves to more demanding tasks.
RPA in your company with solutions from EURO-LOG
As a multi-cloud, theEUROLOG SCM PLATTFORM brings together all supply chain data centrally and thus enables the use of Robotic Process Automation in your company.
All procurement processes are automated with our procurement management solution. By constantly checking all data, system messages are sent proactively in the event of deviations, such as a price difference. This enables you to resolve complications more quickly or avoid them altogether through early intervention by your employees.
In transport management, the standardised processes of the RPA bots reduce complexity and increase transparency in your supply chain. Orders no longer have to be placed manually. Freight cost checks are no longer carried out on a random basis; all discrepancies are detected. RPA also supports "exception handling", i.e. the management of process deviations. For example, the robots fill in incomplete data records, recognise incorrect entries and correct them independently. Your employees can concentrate on the critical exceptions. This saves time, money and nerves.
Robotic Process Automation shows its full strength in our ONE TRACK shipment tracking. RPA bots are able to independently request the current status from the corresponding transport or CEP service provider based on the consignment number. And to pass this on not only to you, but also to your customers. An RPA bot repeats the learned processes at intervals of a few minutes, almost a thousand times a day, even at night and on holidays.
If necessary, the robots translate the information obtained into a uniform status language or another country language. If navigation services are available, RPA bots additionally determine the estimated time of arrival (ETA) and regularly check the transport progress.
In container management, the RPA supports by constantly querying the container accounts. When defined stock limits are reached, you receive a message and can trigger subsequent deliveries or empties collections via the push principle. Alternatively, your suppliers can order the required loading equipment (pull principle).
Fewer errors, concentration on exceptional cases, faster resolution of problems - all this not only saves time, but also costs!
The automation of manual tasks has many advantages for your company and increases customer satisfaction. Click on the solution that suits you and find out how EURO-LOG can give you even more advantages and more satisfied customers.
EURO-LOG contact for robotic process automation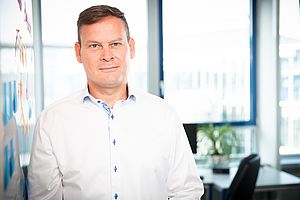 Claus Süskind
Head of Sales
EURO-LOG AG
Am Söldnermoos 17
85399 Hallbergmoos-Munich
Phone: +49 811 9595-109
Fax: +49 811 9595-199
E-Mail: c.sueskind@

eurolog.com
CONTACT
EURO-LOG AG - AM SÖLDNERMOOS 17 - D-85399 HALLBERGMOOS - INFO@EUROLOG.COM - PHONE 0049 811 9595-0